The phone is a very useful tool for communication. It is instant, it opens a live platform and encourages a fast solution, however it can be almost too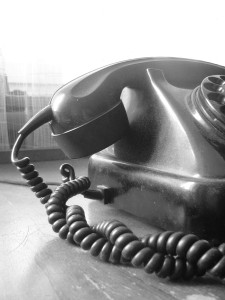 easy to say or do something to upset the person on the other end.
Not having the ability to see what the other person is doing, while you're talking to them, can be frustrating. Are they trying to solve your issue, are they even listening to you? This is where it's
important to watch what you say and how you say it, analysing your words could save you and your customers a lot of unnecessary stress.
Here are our top 4 tips about keeping your customers happy on the phone:
Don't delay
When you need a find a solution fast, it is tempting to put the caller on hold while you find the right person or best solution for the job. However, putting someone on hold for too long or not explaining what you're doing, can be the most frustrating thing imaginable to somebody looking for answers. If people are feeling impatient, this will only increase their feelings of anger.
Don't try to end the call quickly
Saying anything to get someone off the phone might seem like a quick fix, but in reality this will only delay another phone call and add to their list of frustrations. It is also important to give your caller your full attention, even if your attention is actually being used to solve their problem. You should always respond quickly and show them that you have heard what they are saying.
Don't undermine your own/the companies abilities
When you're on the phone it's very easy to feel like you can pass blame or take the blame yourself, however any errors should not be frequent and therefore it's best not to sound as if they happen regularly.
Avoid giving 'best case' scenarios
It's easy to do when the person on the other end of the phone is demanding a better solution, and it's easy to cave in and say 'in the next 3 days' when really it's between 3-5 working days. Avoid giving them a reason to feel let down again, the last thing you want is another angry phone call.
Read our previous blog, which shows the importance of phone calls in effective customer service, and please contact us with any queries on 0800 0835 159 or at [email protected].