To an extent, all businesses provide some level of customer service, even if it could be perceived as bad. It is important that from the offset, a business provides a consistent customer service in order to offer a great customer experience…but what is the difference between the two?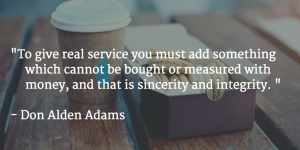 Customer service is considered the service you provide customers before, during and after a purchase. Customer experience is what your customer thinks about your company through any form of interaction.
Customer experience is more than a one-off event – it is the entire relationship you have with your clients. By creating a great customer experience, you build upon how your customers perceive your brand and increase your reputation.
So what should your business be doing to provide a great customer experience?
Provide consistency – May sure that all your employees know what standards are expected and put protocols in places to deal with different customer service scenarios.
Understand your customers – If your customers prefer interacting with you on the phone than via email, have you got these provisions in place?
Be proactive – It is important to keep in contact with your customers, making sure that they are happy even if this is simply a quick email now and then.
Reward your customers – Nothing makes a customer feel more valued than being appreciated by a business. With 80% of sales being considered to come from your current customers, it can be beneficial to offer little incentives now and then.
Always be honest – Not being truthful with your customers is one way a customer experience can turn bad. If there is a problem, it is vital that you are completely sincere with your customers, even if the issue can't be solved straight away. Honest is always the best policy.
Call us on 0800 0931 830 with any queries or email info@mplcontact.com for any extra information.