With over 50 million Facebook pages and 1.35 billion active users, it is not surprising that it is becoming more common for consumers to post their issues and problems on company's walls, especially when they received bad customer service elsewhere.
When this occurs, these comments need to be dealt with quickly and appropriately to minimise customer frustration and resolve the issues.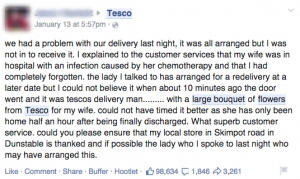 However, many customers also turn to social media platforms to express their joy for great customer service. Over the last week or so, you might have seen a Facebook post on Tesco's wall being shared among your 'friends' about the company exceeding customer expectations.
A gentleman called up his local customer service at Tesco to rearrange a re-delivery of his shopping as his wife was in hospital for chemotherapy. After speaking on the phone to customer service, around 10 minutes later, a Tesco delivery arrived with a large bouquet of flowers for his wife, after only 30 minutes being home from the hospital. The Facebook user praised Tesco for their 'superb customer service.'
This Facebook post was liked over 98,000 people, was shared over 3000 times and had nearly 2000 comments praising Tesco and their great customer service.
This just goes to show that while social media can be a way for consumers to vent their frustration, it can also be a great place for consumers to praise businesses for giving them a great customer experience.
Businesses must remember that customer is always king and by maintaining high quality customer service throughout your organisation and through different channels, your customers will value the service you provide.
Call us on 0800 0931 830 with any queries or email info@mplcontact.com for any extra information.