In business, there will come a time when you will have to deal with customer complaints.
This is not always a bad thing.
By dealing with customer complaints effectively, you can help improve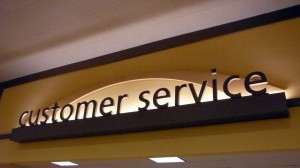 customer retention, and give your company a good reputation for customer service.
Here are 5 tips on how to deal with customer complaints and ensure complaints are dealt with professionally:-
1. Listen to your customer's complaints and acknowledge their issue
Let them express their issues and problems, without interruption and take notes of the main complaints. Once they have finished talking, thank them for the comments and acknowledge their anger.
As you are representing your company, make sure you apologise for the experience they have had…but do not claim the fault as your own as it is probably isn't! Apologising early can help you manage the call without having it escalate.
2. Communication is key
By using notes, you should be able to demonstrate to your customers what their problems are. When speaking to them, keep calm and mirror their language to stay on the same level as them. Ask closed questions to check you have complete understanding.
Assure them by letting them know exactly what you're going to do and the options available to them. If the options that they want are not possible, let them know exactly why. Being open with your customers is vitally important.
3. Act
Once you have told your customers how you are going to resolve their problem, do it! Make sure you follow through any actions and deliver what you have promised. By doing this, you are more likely to have a happy customer who will continue to use your services.
4. Turn complaints into opportunities
Every complaint should be treated as serious, be it big or small. Any customer dissatisfaction could mean them using your competition and not you next time.
With any complaint, thank your customers for voicing their problems.  If you handle a customer complaint really well – perhaps go that extra mile and offer them something they weren't expecting (for example replace the product and send them something a little extra too) – you can even turn an unhappy customer into an advocate for your brand.
5. Make it easy for people to speak to someone
When customers have a complaint, not having someone to talk to can be half the frustration.
You need make it easy for customers to contact you and get immediate access to people who can help them. If customers can't find a way to give feedback, they may just go to another company without letting you know why.
Call handling solutions from mplcontact can make all the difference.
Our team of customer service experts can help address customer issues or take orders for you 24 hours a day, 7 days a week.
We can add a 'personal touch' to your customer experience, allowing your business to maintain and develop lasting relationships with your customers while allowing you to concentrate on growing your business in other areas.
Call us on 0800 0931 830 or email info@mplcontact.com to discover how we can help your business to grow.
mplcontact.  Always here for you. Always here for your customers.