We are excited to announce that mplcontact are exhibiting at this year's Business Show in London, along side 350 other great businesses.

Held at Olympia in London on the 27th and 28th November, we would love for you to join us at The Business Show 2014 and learn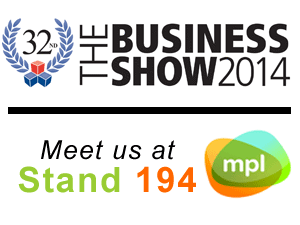 how to GROW your business.
Tickets are completely FREE – all you need to do is book here.
Siobhain Goodall, Head of business development, and Tracey Limbert, Director of Client Services, at mplcontact will be at stand 194 to answer any questions you may have about customer service solutions for your business.
If you need any advice before the show, please get in touch with us by calling 0800 0931 830, or send us an email to joannew@mplcontact.com.
About The Business Show:
With over 25,000 businesses attending, 350 exhibitors, 250 seminars and 12 workshops to attend, The Business Show is the perfect opportunity for you to gain a wealth of knowledge and opportunities, that can help your business to grow within a challenging economy.
This event welcomes businesses from a cross-section of industries, and remains more committed than ever to providing you with everything you need to improve, evolve and expand your business.
Key speakers include:
Richard Reed – Founder of Innocent Smoothie 
James Cann – Former Dragon's Den star
Rachelle Headland – Managing Director of Saatchi & Saatchi X
…and many more!
Don't miss out on this great opportunity – book your FREE place now!
For more information about The Business Show 2014, please visit their website, or you can speak to a member of our team by email and by calling 0800 0931 830.