Pretty much everyone has switched providers of some sort – gas, broadband, your morning coffee stop – just because getting to the front of the queue was too much like hard work, one too many times.
And despite the fact we know first impressions count, in a business relationship, it's the last encounter we always remember, then tell someone else about, brood over…
So, chances are that some of your own customers will have left for pastures new when your customer service has not been as quick off the mark as you'd like to be.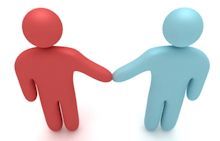 Here are our 4 steps for maintaining a deep and meaningful relationship with your customers and, no surprise, they all revolve around communication, the cornerstone of all relationships:
1. Know how your customers want to reach you. Don't assume you know how and when your customers will contact you; Web Chat is the sexy channel right now but how many of your customers will actually want to use it?  Ask them next time they call you….
2. Always use any information callers are forced to enter in your IVR system. If you insist callers enter details into an IVR before they speak to a real person, make sure that real person has their details the second the caller is put through (banks are one of the biggest offenders – have they really not learnt that they need to be especially nice to us?)
3. Humans want to talk to humans. Even a polite 'holding' message from a real person is better than voicemail or the digital tumbleweed of an 'Our office is closed' email response. If you really must automate, soften the blow that no-one is around by pointing them to a useful page on your website.
4. Publicise solutions to common problems and alerts about service issues to the places your customers will easily find them. Your front office staff have their collective ear to the ground so get the useful nuggets of information they pick up off their jotters and onto your website, Twitter profile, out as a text message or as a final PS "This may be of use to you.." at the end of a customer service call.
When your customers want you, they want you NOW; don't play hard to get – make it easy for them to get exactly what they want when they want it. Call us on 0800 0931 830 with any queries or email info@mplcontact.com for any extra information.