mplcontact agents get in the mood for Children In Need fundraising in the contact centre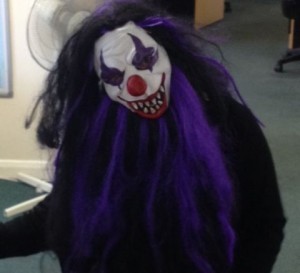 mplcontact agents got in the mood – for what, we dread to think – this Halloween by turning the Nottingham contact centre into a Haunted House for the day. The team at mplcontact decided to use Halloween as a dry run for the festivities planned for Children In Need on the 15th November.
With fancy dress, cake bakes, quizzes and games planned for the biggest fund raising day on the calendar, mplcontact agents decided to use Halloween to show off their dressing up skills and inject some fun into what would otherwise be just another Thursday.
Everyone pulled out the stops and came into work dressed to kill; ghouls, ghosts, witches and zombies were all welcomed into the team to kick off the build up to Children In Need.
We always knew our agents were talented but we think some may have missed their calling in the wardrobe and make up departments of theatres – we can't wait to see what the 15th November brings!
Call us on 0800 0931 830 with any queries or email [email protected] for any extra information.